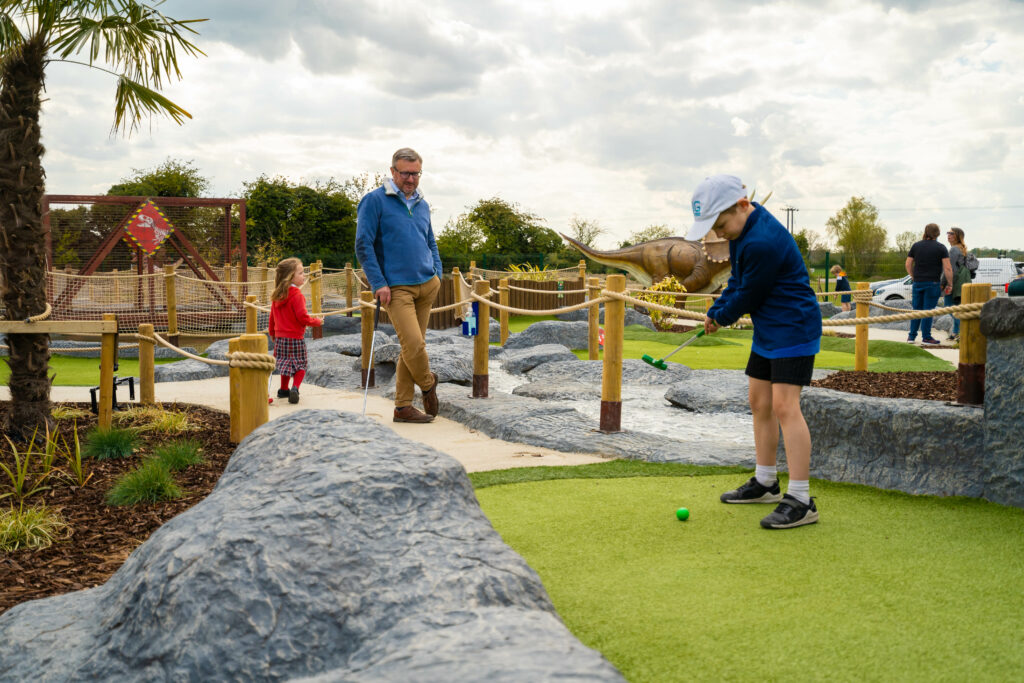 At Kingsway Royston we have something for everyone! Whether it be Juniors, Adults, Mums and Dads or Nan and Grandads! It could be a family day out down on our Jurassic Links Adventure Golf or enjoying brunch in our Jamaica Blue Cafe!
JURASSIC LINKS ADVENTURE GOLF
Dinosaur lovers, Adventure Golf and Golf lovers in general, Our Jurassic Links Adventure Golf is designed for everyone! Play with friends, family and even your colleagues, we can host parties, team building events and family day outs.
Enjoy 18 holes of action-packed adventure golf in a dramatic Jurassic nestled in the Cambridge countryside.
Navigate your way through our prehistoric caves, winding fossil paths, but can you hold your nerve when trying to putt being watched by our gigantic resident dinosaurs. Located at Kingsway Golf Centre, Cambridge, and wishing easy reach of the A14, M11 and A10 Jurassic Links Adventure Golf is one of Cambridge's biggest adventure golf courses.
You will have to navigate the "winding jurassic river" and cascading waterfall and always be of the fierce dinosaurs around you. Jurassic Links is designed for the young at heart and families that want a safe day out but also wanting to embark on the ultimate adventure golf adventure.
Dinosaur fans will love the realistic dinosaurs at Jurassic Links, as well as discovering fascinating facts about the prehistoric period on the journey round. Invite your friends, arrange a special date, bring the families, or even work colleagues – it's the perfect activity for all, with plenty of #JurassicMoments and selfie opportunities to be captured along the way.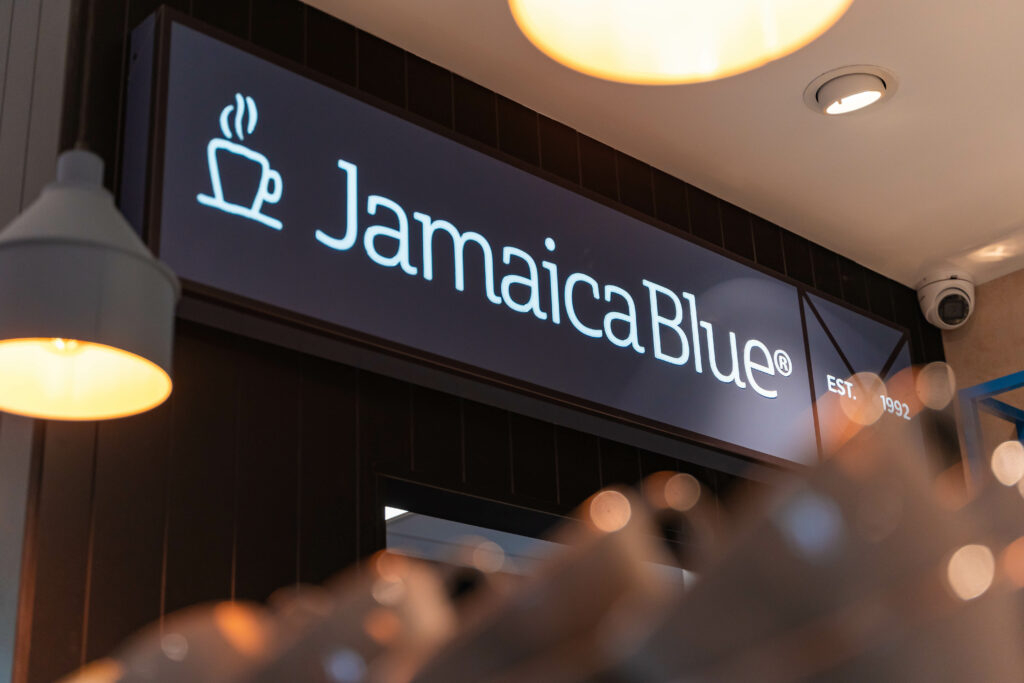 JAMAICA BLUE CAFE
Jamaica Blue is built on the simple focus of sourcing the very best coffee and using only the freshest premium ingredients in our unique contemporary café dishes. Our name is drawn from the majestic Blue Mountains of Jamaica, known for its production of coffee beans with a remarkable mix of flavours and a smoothness and aroma that is second too none. This focus and drive to provide our customers with unique flavours and dining experiences together with our passionate crew of chefs', baristas and service staff makes Jamaica Blue a welcome escape from the day to day.
FANTASTIC FOOD
Every dish served at a Jamaica Blue is created using fresh, quality ingredients; our recipes are simple and uncomplicated. In our cafe we have various items on the menu! We have a brilliant variety for everyone, including meat-lovers and for vegetarians!
DELICIOUS COFFEE
Our range is available in both our famous Blue Mountain and our award-winning Jamaica Blue Signature Blends. The world-class beans used in our coffees are expertly roasted to bring out their unique flavours. Once these beans reach our cafes, our highly trained Baristas are on hand to work their magic, using their expertise to brew the perfect cup, every time.
KINGSWAY GOLF
From our state of the art technology driving range to our 9 hole Melbourn Course and our Par 3 Orchard Course!
This beautiful 9-hole golf course presents satisfying challenges for experienced golfers, but is designed in such a way that beginners aren't too overwhelmed – making it the perfect course to master your game. Our Melbourn course is a par 33, measuring 2329 yards, so getting around on foot is easy for everyone. Whether it be enjoying a round with some friends or playing in your golf society days, we have got you covered!
Our Par 3 Orchard Course, it is perfect for the quick and easy pay & play golf, to get some practice in using wedges and putting or a family golf trip out for some fun! Our Par 3 Course can be perfect for parties also. With a relaxed dress code and a warm, welcoming atmosphere for everyone, our friendly team will be happy to help you get set for a day on our beautiful Orchard course.

Our try out the best driving range In South Cambridgeshire! With Toptracer techonology, when introducing Toptracer technology to our range we are trying to get more people loving the game of golf. Toptracer does this by having all different game modes including;
Virtual Golf – This game modes bring the modern game into virtual game, by allowing players to play some of the courses in the world into the virtual world. You can play courses like, St.Andrews, Pebble Beach and many more!
Warm up – Use the warm up to analyse your own data points, including ball speed, launch angle, distance and many others to get you prepared for your next round of golf!
Closest to the pin – This enjoyable, fun game mode is great for pin seeking practice or taking on some friends or family! This classic contest at Kingsway is great to compete in because we commonly have competitions to win prizes!
Long Drive – Another classic on the course, brought onto the modern technology. Settle the debate and see who can launch the ball the furthest!
There are many more game modes on our top tracer check them out here!