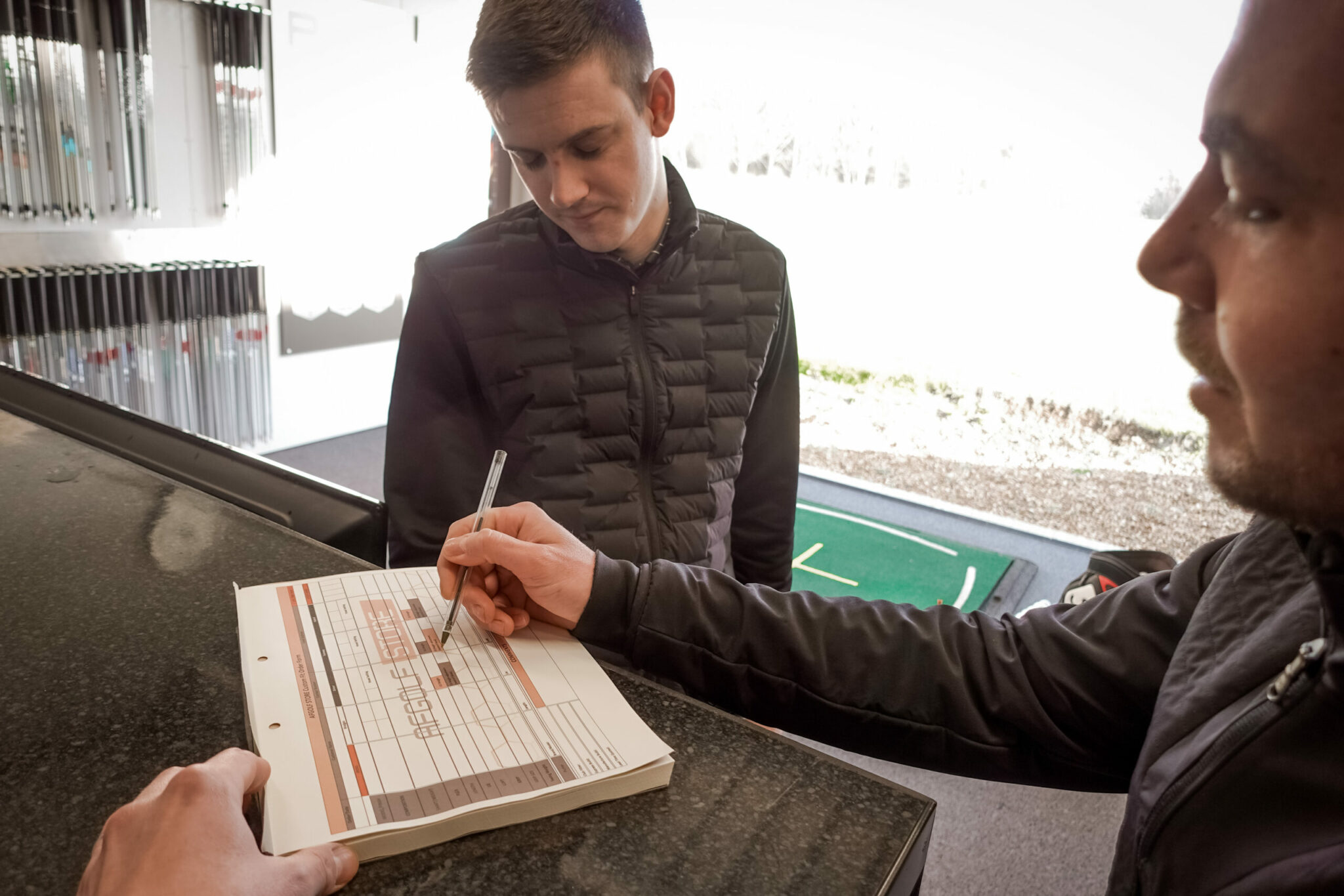 Practice Golf At Kingsway this 2023!
If you're trying to learn golf for the first time or you're an avid golfer, or just trying to improve your game, then this may be the place you start as online the amount of information can be quite overwhelming.
At Kingsway we are keen to provide golf and opportunities for any Junior Golfers, whether they aspire to be the next Tiger Woods or even just to have fun with some friends!
We offer Junior Golf Academy services to help get the new generation into the sport. At Kingsway we are offering a fun, competitive and affordable way to get Juniors into the sport. We hold various classes including, FREE taster sessions, 6 week coaching programmes, which include learning the skills of driving, iron play, chipping, putting, on course play and competitions.
Our Junior Group coaching sessions aim to give all children an increased knowledge of skills required to play, develop an understand of  golf but to have fun whilst leaning. 
Group Coaching In Cambridge
Our Group Coaching is a great way to improve your golf while finding other golfers with the same or near ability, this can start new relationships and make golf even more fun, sociable and enjoyable.
The current Group Coaching lessons we have available are:
This class is perfect for golfers trying to expand their knowledge of the game and improve their skills while having fun and enjoying the game with the others.
Some of the skills they will be learning is about the fundamentals, the basics. Once these are cracked then your golf starts to be even better.
At Kingsway we are always trying to develop opportunities to get more women into the game of Golf. Our classes are designed for ladies to learn golf the fun way.
The benefits of Group lessons at Kingsway are:
We can provide equipment for the lessons – FREE OF CHARGE!
We ensure that all lessons are FUN and ENJOYABLE.
They are GREAT value for money!
Our lessons are more relaxed but with lots of important information.
Social learning together has proven to be invaluable to aid understanding.
Get a Virtual Handicap via Toptracer 30!
 For beginner golfers and even some moderate golfers, heading out on a 6500 yard, 18 hole golf course can daunting, I recommend starting out on a driving range, and if you can find a Toptracer driving range, then even better. 
Toptracer driving range's are the best way for anyone to gather some data and also be able to analysis what they need to improve on. 
Toptracer30 is a new game mode designed by the team at Toptracer to help give you real insights on how to improve your game. Here's some words on how it works: 
" Toptracer30 consists of 30 shots: nine tee shots (on par 4s and par 5s) and 21 approach shots (three shots from seven different 25-yard distance brackets). 
At the beginning of the game, you'll be asked to input a reference handicap. This number will be used for comparison purposes throughout the game, so we recommend using your current handicap if you know it. As you hit each shot, T30 uses the strokes gained methodology to calculate how efficiently you move from point A to point B. 
At the end of the game, T30 generates an estimated performance handicap, a total game score, and a number of personalised insights that you can use to inform your next practice session." (https://toptracer.com/t30/). 
This is a great way to get some more infomartion about where your ability lies and what needs improving.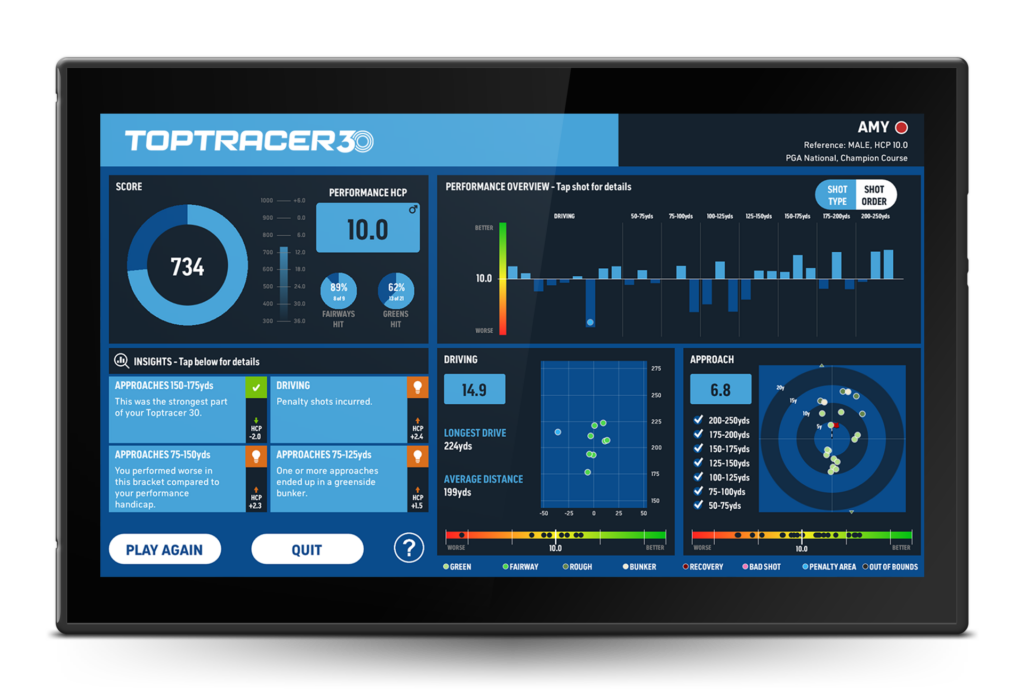 INDIVIDUAL GOLF COACHING IN CAMBRIDGE
At AFGolfStore their aim is to help people play better golf. Whether that be through better equipment or golf lessons we offer it all.
Their golf lessons are consistent across all sites, with expert PGA Professionals offering their knowledge to help you see improvements. With the use of video analysis they can begin to identify what areas of your game need performance enhancements and create a blueprint to improvement to help you reach your goals. (Some of our coaches use technology such as Trackman and video analysis while others use more on course strategies to improve your game)
Booking a golf lesson can not just ease your frustrations but it can also improve your confidence and awareness out on the golf course which will lead to better enjoyment.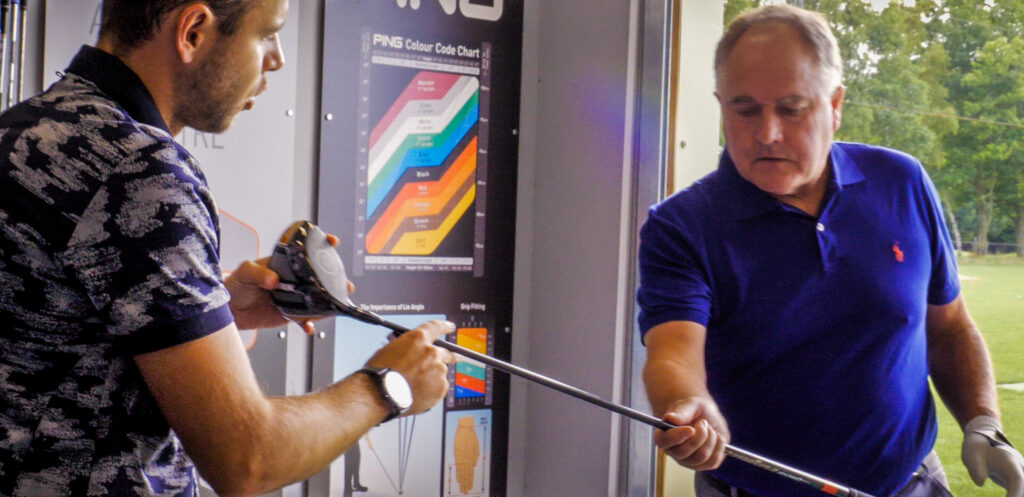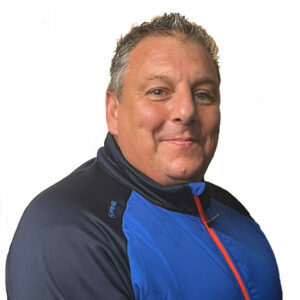 Mark has been a PGA Qualified professional for 28 years and has earned a high coaching reputation for his work teaching all levels of golfers from beginners to touring professionals. His passion for coaching comes from seeing his pupils improve all areas of their golf game. He believes the route for his pupil's improvement is a partnership and is there to help every step of the way.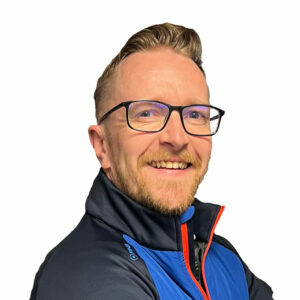 I have a passion for helping my clients reach their potential in golf. With a wealth of experience gained over my years as a PGA Professional I have enjoyed becoming versatile to every golfers needs. I am consistent in my approach, which is to ensure we discover the core areas of weakness in your game, understand how best to approach it with a clear blueprint guide to improvement which will leave you feeling more confident in not only how to improve but your lasting results.