What is Toptracer?
Before diving into the Driving Challenge feature, let's understand what Toptracer is. Toptracer is a state-of-the-art ball-tracking technology based at our Kingsway Royston site that offers an immersive golf experience. It's used to track the flight of your golf ball and provide you with valuable data and insights about your swing.
One of the most exciting aspects of Toptracer is the Driving Challenge feature, which allows golfers to participate in a competitive, game-like setting while practicing their drives.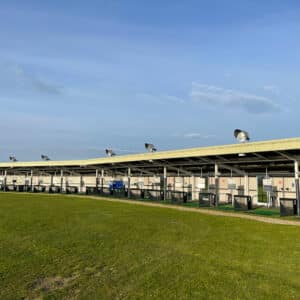 Getting Started with Toptracer's Driving Challenge
Locate our Toptracer-enabled facility: To use the Driving Challenge feature, you'll need to find our driving range Toptracer technology located at Kingsway Royston (Map on the right). 

Choose your game: Once you're at our Toptracer-enabled facility, approach one of thirty bays with Toptracer screens. Log in or select your player profile, if prompted. You'll then be presented with various game options, including the Driving Challenge.
Benefits of Using the Driving Challenge Feature
The Driving Challenge feature on Toptracer offers numerous advantages for golfers of all skill levels:
Engaging practice: Golfers often struggle with monotony during practice sessions. The Driving Challenge adds an element of fun and competition, making your practice more engaging.

Data-driven improvement: Toptracer provides accurate shot data, helping you identify strengths and weaknesses in your game. You can track your progress over time and work on specific areas that need improvement.

Competition and camaraderie: Challenge your friends or fellow golfers to a friendly competition. It's a great way to add a social element to your practice sessions.

Realistic simulation: Toptracer's technology accurately simulates the experience of playing on a real golf course, helping you prepare for your next round.
Enter our Driving Challenge Winter Series this November!
November is the Driving Challenge on Royal St Georges on our Toptracer at Kingsway Royston!
ALL YOU NEED IS A TOPTRACER ACCOUNT, AND TO SIGN IN!
Monthly prizes: Kingsway Credit:
1st – £50
2nd – £30 
3rd – £20