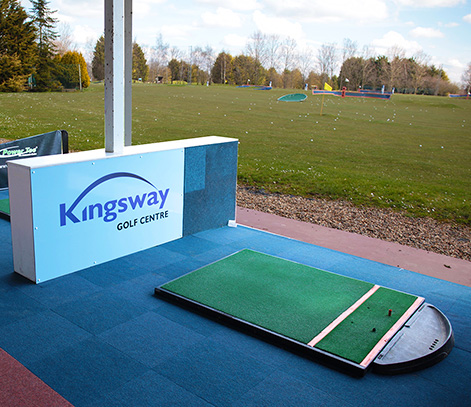 WHAT TO EXPECT AT KINGSWAY GOLF CENTRE
Kingsway Golf Centre, based on the outskirts of Hertfordshire & Cambridge was built in the 1990s to make golf accessible to everyone and a place where all members of the family could play together.
This vision still has not been lost nearly 30 years later, with 30 driving range bays, a par 3 pitch and putt, footgolf and 9 hole golf course the centre offers opportunities to players of all ages and abilities.
With tee times available 7 days a week players do not have to be members to plays allowing for casual golfers to play at a time that suited them. The centre has always been accompanied by a leading retail store offering equipment and expertise to players and customers whatever their requirements
Our Vision For The BEST Golf Centre, Range & Coaching In Cambridge & Hertfordshire
2020 saw the introduction of our custom fitting studio whereby customer can try clubs from a number of manufactures in a variety of options and configurations. Custom fitting helps the customers to optimise the clubs they are using and maximise their game and potential.
2020 also saw the introduction of Toptracer Range, a leader in golf ball tracking technology which allows players to see data from their shots normally associated with Tour level professionals.
Toptracer Ranges allows players to see how far each of their shots travels, track improvements, complete against friends or play some of the most exclusive golf courses around the world. Each bay has its own screen and each screen can allow up to 8 players on certain games making it ideal for families or meeting friends.
What's NEW for 2021?
The vision from when the centre open will not be lost in 2021, Kingsway is undergoing an expansion of products it can offer to customers with the introduction of its new Jurassic Links adventure golf. A transformation of the original crazy golf idea the Jurassic links will allow even the youngest of golfer to play for the first time, themed in the Jurassic period with dinosaurs and waterfalls even the big kids will enjoy.
2021 will also see the centre's coaching team grow to 8 teaching professionals with a full-time junior academy coach, ladies group coaching, beginners' lessons and learn golf in a day classes. Whatever your ability a member or our coaching team will be able to help and improve your game to meet your goals.